Unleashing Bronto's Fields, Segments, and Workflows for Powerful Automated Marketing Messages
8/31/2017
---
We've worked with many marketing automation platforms and have written about custom integrations using MailChimp, Salesforce, Marketo, HubSpot, and Bronto. Recently, we've been impressed by the combined power of Bronto's fields, segments, and workflows. Fields are user metadata and can be updated remotely via the Bronto API. Segments are automatically generated lists of users who meet the segment's criteria. Finally, workflows are intelligent triggers that can be used to initiate a complex series of events. The combination of these features can be extremely powerful for marketers looking to send customized messages to highly targeted lists.
For instance, we recently built a CMS-based blogging platform for FindaTopDoc, a client that showcases medical professionals and their content. Their blog posts go through a series of editorial controls before they are made publicly visible, and if the author has opted-in and configured social sharing, the published posts are also shared to the author's social media accounts.
Fields
At various points of the integration, we update the author's Bronto fields, such as social_sharing_accounts_configured and articles_shared. These data allow us to produce granular reports via Bronto segments and trigger automated workflows.
Segmented reports
Bronto segments are reports that are based on a set of logical criteria. For instance, consider the segment below.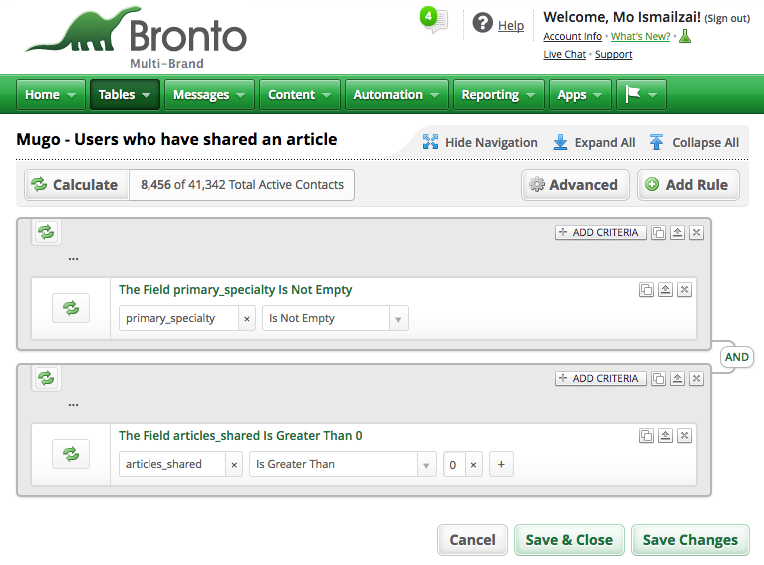 It has been configured to include all contacts who have shared an article and registered a primary specialty in the CMS (having a primary specialty means the contact is a doctor). Of the 41,342 active users, 8,456 meet the segment criteria. Segments are always up-to-date and can be treated as highly customizable reports. In addition to filtering based on the user's field data, segments can also include users based on their e-commerce activity, list memberships, geographic location, and conversion metrics. The criterion below, for instance, can be used to produce a list of all users who have opened more than 80% of the emails we've sent them.
Intelligent workflows
Segments can be used for much more than just generating reports and are particularly powerful in the context of workflows. For instance, members of your marketing team can use Bronto's powerful workflow editor to trigger highly customized transactional messages without writing a single line of code. As an example, consider the workflow below: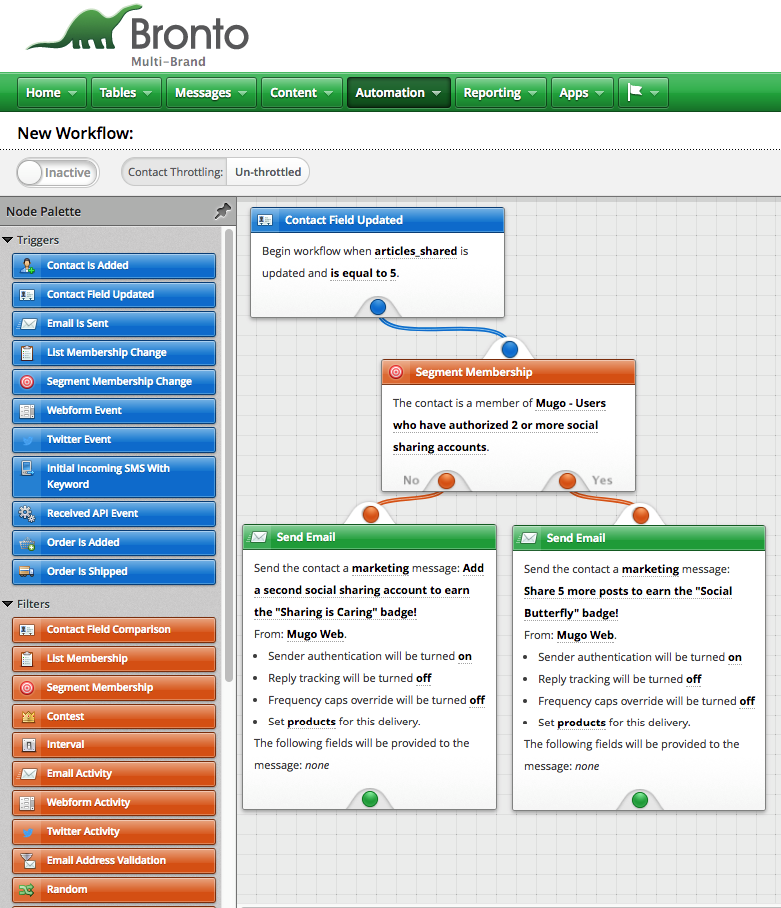 It is configured to run when a contact's articles_shared field, which is automatically incremented via CMS workflows, reaches 5. When this happens, the workflow tests whether the contact is a member of the Users who have authorized 2 or more social sharing accounts segment. That segment's primary inclusion criterion is that a contact's social_sharing_accounts_configured field, which is also automatically incremented via CMS workflows, should be 2 or more. If the contact is part of this segment, the workflow triggers the Share 5 more posts to earn the "Social Butterfly" badge! message; otherwise, it triggers the Add a second social sharing account to earn the "Sharing is Caring" badge! message. Workflows such as this one empower marketing teams to automate highly customizable messages, implement complex user experience layers such as gamification, and to iterate over existing campaigns, all without requiring additional development cycles.
Empowering clients
Regardless of the marketing automation system you use -- or whether you choose to use one at all -- accurate and up-to-date information about your users opens the doors to exciting possibilities.